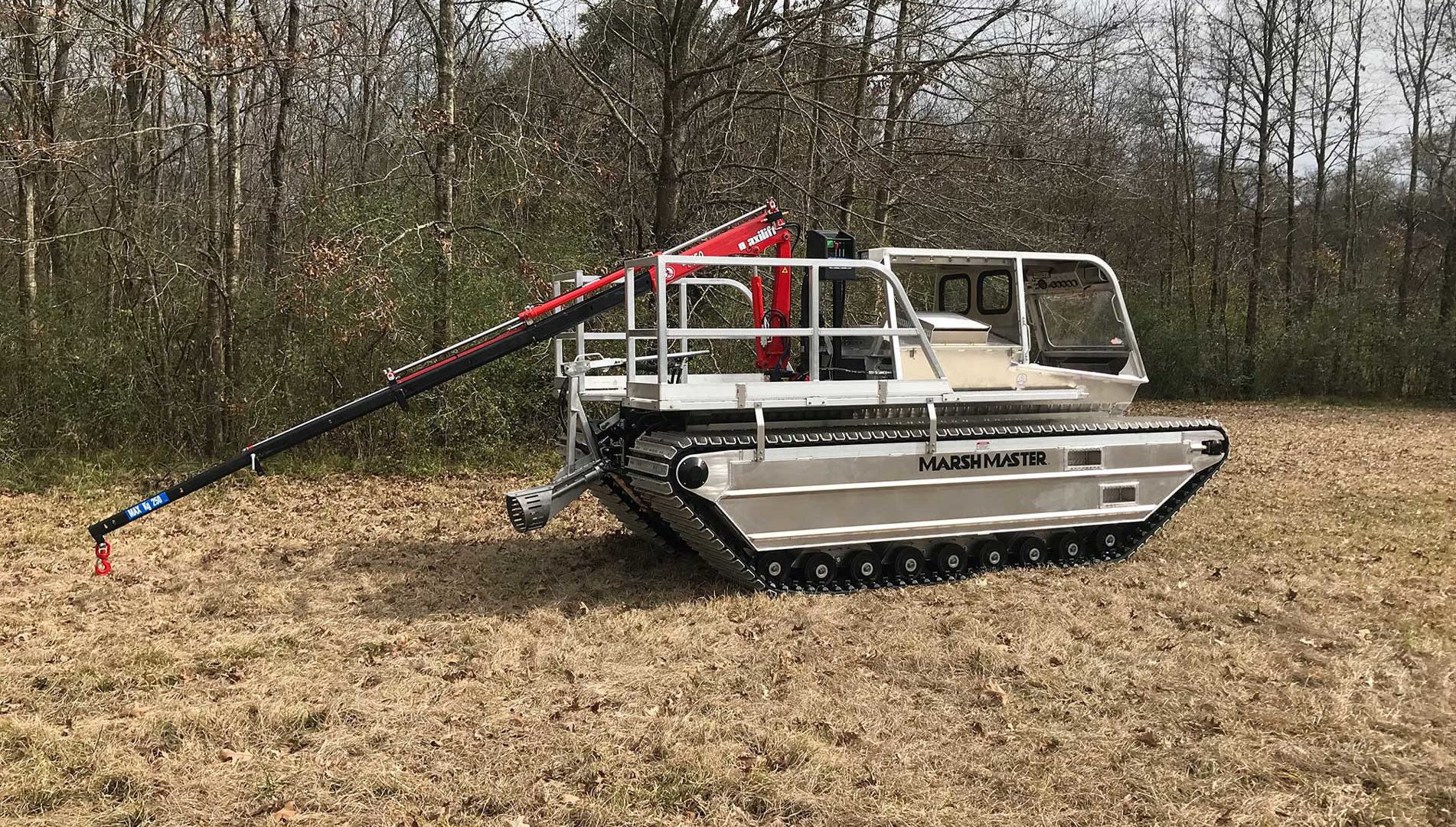 Marsh Master® Rentals
Whether it be a one day job or a long term project, contact our Rentals team, and we will work with you to evaluate your needs and job challenges.
Request a Rental
Marsh Master® Amphibious Track Vehicles Are Rental Ready
---
If the time for a purchase isn't right, put our machines to work on your toughest projects through our rentals program. The ability to do a job in marshy or swampy areas is a niche that often cannot be capitalized on because it requires specialized equipment that many companies do not have. Oftentimes, the Marsh Master® amphibious track vehicle can give your company a competitive edge.
It's unique amphibious design allows it to function as a personnel carrier or as a platform for a variety of hydraulic attachments. A 3-point hitch system, low flow and high flow hydraulics, a high capacity cooling system, and a variety of specialty attachments increase capability and add value.
How Marsh Master® Rentals Work
When you need a tough, reliable, fully amphibious piece of equipment that has unmatched capabilities in wetland environments, you need a Marsh Master® marsh buggy.
Lease the marsh buggies by the day, week, or month.
We provide custom tilt-bed trailers for MM-2LX, making it easily transportable with a properly equipped tow vehicle.
Several custom attachments are available for rent with the MM-2LX as well, such as:
Spray rigs and hydraulic cutters for right-of-way and pipeline maintenance
Backhoes
Anchoring machines to set helical utility anchors
Geoprobe® 540M soil sampling unit for discrete soil sampling and running conductivity probes
Rental Requirements
In order to rent a Marsh Master® Amphibious Marsh Buggy, you must comply to the following requirements.
Certificate of Insurance meeting our insurance standards
Credit Application
Properly equipped tow vehicle
Rental Terms and Conditions
Rental Contact
Brett Sanchez brett@marshmaster.com
Toll Free 800-827-5320
Office 225-753-1323
Fax 225-753-0412