Single Model.
Wide-Ranging Capabilities.
---
Diverse job requirements demand a machine with diverse capabilities. High flotation and a powerful drive system give the Marsh Master® MM-2LX that capability. Throw in the custom 3-point hitch system and a variety of job-specific attachments, and the MM-2LX becomes the undeniable choice when you need a multi-purpose machine to do many different jobs.
Benefits of the MM‑2LX:
High Flotation
Large Cargo Area
Low Ground Pressure (1 psi)
High Ground Clearance
Marine-Grade Aluminum Body
Multi-Purpose Tool Carrier
Extremely durable rubber belt track system
Low maintenance oil bath lubricated bogey system (no greasing)
Powerful Tier 4 Final approved 74 HP Kohler KDI 2504TCR diesel engine.

– no DEF, no DPF, and no REGEN, more work and less downtime
Attachments that Adapt to Every Situation
Outfit and Equip with Accessories to Add Value
The MM-2LX is a Marvel in the Marsh
Marsh Master MM-2LX + Backhoe & Front Blade | Dam Buster!
Beavers do tremendous damage to timber by building dams and flooding low-lying areas. Unfortunately, the dams are often built in hard to get to locations. Marsh Master® has the solution for getting to and quickly destroying their dams! The Marsh Master® MM-2LX equipped with a backhoe or backhoe/front blade combo is the ultimate weapon for getting into the swamp and quickly taking out their dams. Fully amphibious, it's a real workhorse that can get your beaver problem under control. Marsh Master® …. Making the impassable… possible.
MM-2LX Cutter
The MM-2LX Cutter is a hydraulically driven, two spindle cutting unit that is designed specifically for wetland mowing applications.
Marsh Master® Slick Sled®
The Slick Sled® is an innovative, environmentally low-impact transportation system that enables operators to safely haul personnel and materials in a single trip through marsh, swamp, and all the dry ground in between.
MM-2LX Anchor Master®
The MM-2LX Anchor Master® is a dual purpose attachment for transmission guy wire anchor and ground rod installation in difficult-to-access wetland terrain.
MM-2LX Crane
The MM-2LX equipped with a telescoping boom crane gives operators the ability to pick and transfer loads from a mobile, amphibious platform.
MM-2LX Ditcher
The MM-2LX Ditcher is a hydraulically driven unit that is designed specifically for wetland applications.
MM-2LX Fire Suppression
The amphibious MM-2LX Fire Suppression Unit is ideal for controlled burns or wetland wildfire suppression in marsh or swamp terrain inaccessible by other equipment.
MM-2LX Geoprobe® 540M
The MM-2LX can be rigged with a Geoprobe® 540M for discrete soil sampling in wetland environments.
MM-2LX Herbicide Spray Rig
The MM-2LX can be outfitted with a Herbicide Spray Rig that works extremely well in applications such as mosquito control, invasive plant control, or pipeline and right-of-way maintenance.
MM-2LX Roller Chopper
The MM-2LX Roller Chopper provides a simple, low cost method that rolls and flattens grasses while tracking, which is ideal for invasive phragmites and cattail control, wetline creation in control burning operations, or creating open water waterfowl habitat.
MM-2LX Galvanized Heavy Duty Custom Trailer
The MM-2LX can be towed on our custom tilt-deck trailer. This trailer is designed specifically for the MM-2LX, so it is a perfect fit.
MM-2LX Hydraulic Propeller Drive
The MM-2LX can be equipped with our proprietary hydraulic powered prop drive and attaches to the Marsh Master® vehicle's hydraulic tool circuit with quick-connects.
Need Maintenance to Your Marsh Master® Machine?
Marsh Master® amphibious vehicles are designed, engineered, fabricated and manufactured by Coast Machinery—and no one else. If your Marsh Master® vehicle needs service or maintenance to any parts, attachments or accessories, our full-line service facility can take care of the problems so you can take your machine back to the marsh.
Further MM-2LX Resources, Information and Materials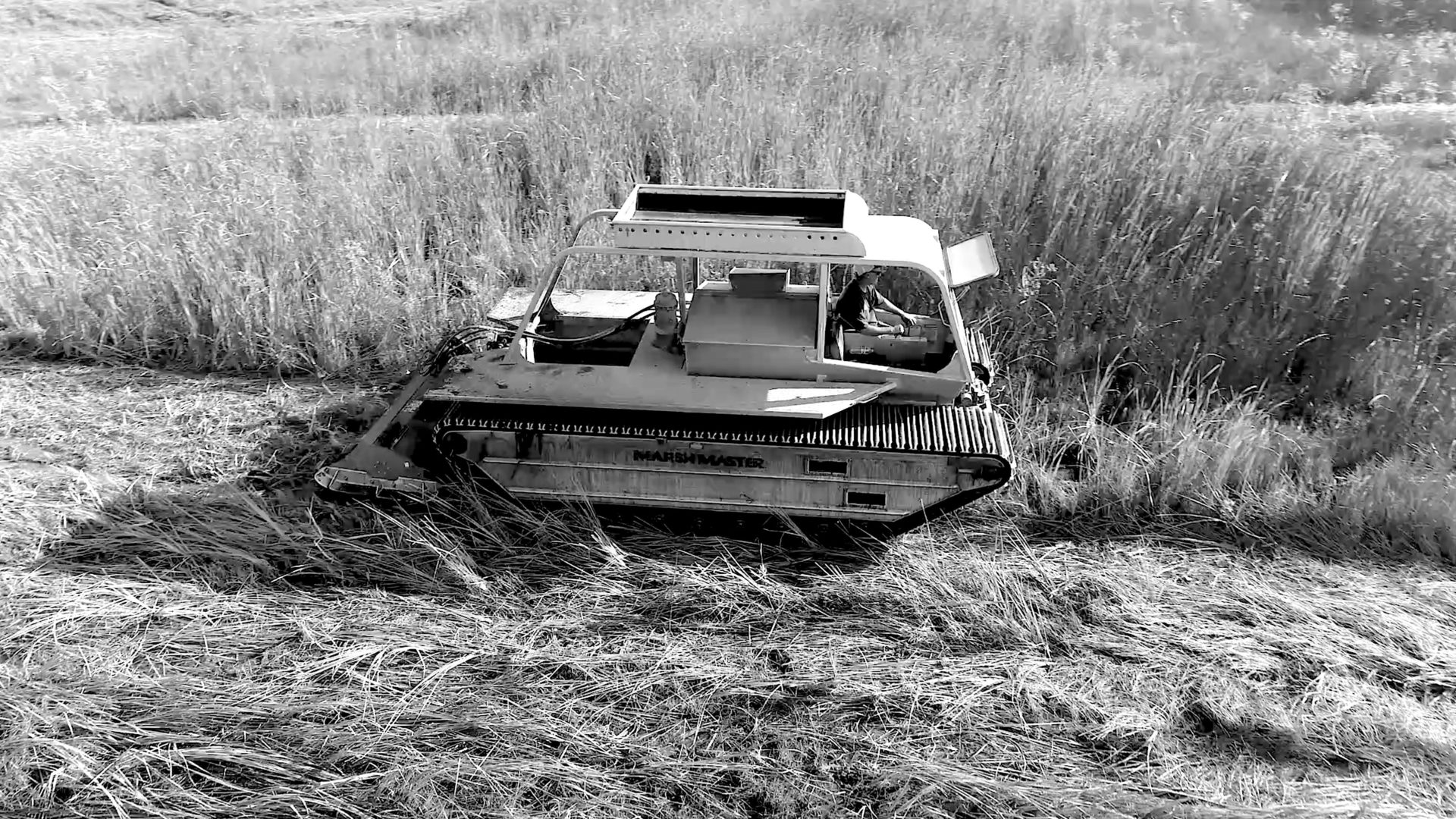 If You're Ready to Get a Marsh Master® MM-2LX, It's Easy to Get a Quote.
We will connect you to one of our expert marsh buggy specialists who can help you find the machine, attachments and accessories that are perfect for your project so you'll get the most out of your Marsh Master® vehicle.